"I would
never
hurt you, Father."
~Amy Dorrit,
Little Dorrit
(2008)
(In case you're wondering where #5 went, I
wrote about her
during
Sense and Sensibility Week
back in November.)
In one of my favorite books,
The Hiding Place
, Corrie ten Boom tells of how her father comforted her when the man she loved married another woman.
"Corrie,"
he says in chapter three,
"do you know what hurts so very much? It's love. Love is the strongest force in the world, and when it is blocked that means pain. There are two things we can do when this happens. We can kill the love so that it stops hurting. But then of course a part of us dies, too. Or, Corrie, we can ask God to open up another route for that love to travel. God loves Karel--even more than you do--and if you ask Him, He will give you His love for this man, a love nothing can prevent, nothing destroy. Whenever we cannot love in the old, human way, Corrie, God can give us the perfect way."
At this point you are probably raising your eyebrows and saying,
"That's a perfectly lovely quote, Miss Dashwood, but what on earth does it have to do with Amy Dorrit?"
Lots.
Claire Foy as Amy Dorrit
Amy Dorrit, also known as Little Dorrit because of her diminutive stature, was born in the Marshalsea debtors' prison and raised as a pauper. Looked down upon by her snobby, selfish family and forced to work as a seamstress to put bread on her father's table, Amy has a hard life, but she never complains. When she meets the kind, caring and compassionate Arthur Clennam--a man who is facing problems of his own, yet takes the time to try and help the Dorrit family--Amy falls in love with him. The only problem is, Arthur (15 years Amy's senior) sees her as a child... and fancies himself in love with someone else.
Matthew Macfadyen as Arthur Clennam with Amy Dorrit
(Are you starting to see parallels?)
Meanwhile, John Chivery (assistant turnkey at the Marshalsea and longtime family friend of the Dorrits) is desperately in love with Amy, and proposes to her in complete confidence that she'll accept him. But she doesn't. She turns him down, because she knows she's in love with Arthur and could never love John in the way that a wife should.
This might look like selfishness, since she effectively broke John's heart in refusing him (and the hearts of all the movie viewers... sigh...). But it's not. It took courage for Amy to say no to John.
"I'm sorry, John, but I could never feel about you that way. The way you'd like me to."
"But... you might come to."
"No. I'm sorry, John. I know I never shall."
Then he asks her if there is someone else, and.... why am I transcribing this whole thing if I could just show it to you? Here you go. Amy's Best Scene. The part I refer to is from 2:29 to 5:12, but if I were you I'd just watch the whole thing. :)
You notice that when John asks if there is anyone else, she evades the question with, "I don't believe I shall ever marry." It wasn't necessary to hurt him further by saying that there was someone else. Little Dorrit firmly believed she didn't have any hope of Arthur's love, so she didn't make matters worse by mentioning him.
And then, after all this had ended, she went on with her life. She was still in love with Arthur and that never changed, but she didn't let herself mope about it. To die for love? Not Amy Dorrit. (Marianne would not have approved, heehee.)
Amy Dorrit's character is one that is best seen through her love of people. She's stuck with probably one of the worst families in period drama history (okay, maybe Anne Elliot could rival her for that title) but she is always patient with her demanding father, brother and sister. No matter what they say or do to her, she responds with gentleness and humility. She loves them in the perfect way that Caspar ten Boom spoke of. "Love is patient, love is kind. It does not envy, it does not boast, it is not proud..."
I've heard it said that Amy Dorrit is too good, too perfect, that she has no backbone and can't even stand up for herself. I disagree. Amy is not a doormat. She may not speak up for herself, but when someone else is wronged, she springs to the defense. Her rascally brother, Edward "Tip" Dorrit, writes a rather rude letter to Arthur Clennam asking for a loan, and Arthur politely refuses to comply (knowing that Tip will just waste the money). Upon receiving Arthur's reply, Tip goes into a tirade against Arthur, and when Amy gently remonstrates, he lashes out at her. Then comes Amy's applause-inducing speech. :)


"How dare you speak like that to me?! And how dare you insult a man who is worth ten of you? Have you any idea who got your debts paid? --I love you Tip; but sometimes I'm ashamed to have you as my brother!"
(It's during this scene that my favorite music, dubbed the Tragedy Theme, plays. FYI.)
GO, AMY.
Sarah Pickering as Amy Dorrit
Things only get worse for poor Amy when the Dorrits inherit a fortune and Mr. Dorrit hires a gentlewoman by the name of Mrs. General to teach Amy and Fanny how to be Ladies Of Society (properly pronounced as Sow-Sigh-Uh-Tee). Under Mrs. General's scrutiny, everything Amy does--even calling her father "Father"--is wrong. Yet Amy bears it all without complaint.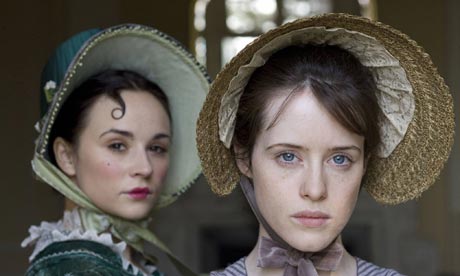 Emma Pierson as Fanny Dorrit and Claire Foy as Amy
Then tragedy strikes again... and again. Amy is left alone in the world and, simultaneously, Arthur is thrown into the Marshalsea prison. Amy goes to the Marshalsea to nurse Arthur back to health after he falls ill, and that is when she learns that he loves her, too.
But the story isn't over, because Amy begs Arthur to allow her to pay his debts... but he says no. He will not be beholden to her, but that doesn't stop her from coming to see him. Then the Evil French Guy (alias whatever alias he's using at the time) gives Amy a mysterious letter, and old Mrs. Clennam (who employed Amy as a seamstress in the dear dead days gone by never to be spoken of) reveals a dark secret to Amy, begging for her forgiveness.
And this is what Amy says to her (from the book, not the movie, haha).
"O, Mrs Clennam, Mrs Clennam," said Little Dorrit, "angry feelings and unforgiving deeds are no comfort and no guide to you and me. My life has been passed in this poor prison, and my teaching has been very defective; but let me implore you to remember later and better days. Be guided only by the Healer of the sick, the Raiser of the dead, the Friend of all who were afflicted and forlorn, the patient Master who shed tears of compassion for our infirmities. We cannot but be right if we put all the rest away, and do everything in remembrance of Him. There is no vengeance and no infliction of suffering in His life, I am sure. There can be no confusion in following Him, and seeking for no other footsteps, I am certain."
Yeah, you won't find that on a 2008 TV miniseries.
Here's another part where the book and movie differ-- in the book *SPOILER ALERT!!* Little Dorrit never tells Arthur the truth about his mother. She burns the paper that Mrs. Clennam gave her and never mentions it to anyone, even though it means she loses the legacy, because she doesn't want to hurt Arthur. I'm glad that in the movie Tattycoram gave Arthur the box and he learned the truth, because I think he deserved to know, but I admire Amy-of-the-book for giving up the inheritance to spare Arthur pain. *END OF SPOILER*
Love bears all things, believes all things, hopes all things... love never fails.
But then the question of money is swept aside in the tumultuous final chapters (and episode) and Arthur and Amy come to an understanding. :) And Arthur's business comes booming back again. And then they get married.
And Miss Dashwood is made happy (albeit in need of a box of Kleenex or two), because who deserves a perfectly perfect ending
more than Miss Amy Dorrit
?