"Well, you'll just have to live here then. Bye-bye." ~Frank Churchill,
Emma
I am one of the most indecisive people I know. This is probably why Philippa Gordon and I get along so well. Or at least we would if she were a real person, and had been born a hundred years later than she was (or if I had been born a hundred years earlier) and if she lived in the United States (or I lived in PEI) which she probably wouldn't because, hello,
Yankees
. Hmmm, now I'm going off on a rabbit trail...
What I'm trying to say here is that I have a terrifically hard time making up my mind about
Emma
1996, aka the Miramax
Emma
, aka the Gwyneth Paltrow
Emma
. There were things I loved about it. There were things I disliked. I can't say I really hated anything, which was good, but overall it gave me a sense of... well, blah.
Oh, and disclaimer to all y'all who DO like this version best-- please
don't
hesitate to shout me down in the comments. I look forward to hearing from you and there's nothing I like better than a good period drama debate (although please do respect my opinion and I'll respect yours).
It would make sense for me to begin with Emma herself. Obviously. So I shall say that Gwyneth Paltrow is not my idea of Emma. Now, I've read that she does a good job of portraying Emma's snootiness and snobbery and all that, and I agree, but I don't think she does a very good job of portraying the sweet side of Emma. I was finding her annoying, and I felt guilty about that, which spoiled my enjoyment of her character. So yes, I was not particularly pleased with Gwyneth Paltrow's Emma. She seemed way too sure of herself-- and though yes, Emma is supposed to have great self-confidence, I saw none of Emma's vulnerability or anxiety to please and impress people. Also, she was too old. I realize Romola Garai wasn't exactly twenty-one either, but GP (yes, I'm abbreviating) looked closer to thirty.
But she WAS incredibly lady-like, tactful, gracious and always had perfect posture (something Romola Garai sadly lacked, I'm afraid), which was nice to see. I liked how she so skillfully steered conversations away from touchy subjects. "Did I mention we are having a new drain installed?"
Now, as for Jeremy Northam's Mr. Knightley.... hooo boy. Okay. Let's approach this nicely and civilly and quietly and without a fuss.
*ducks rotten vegetables*
I know, I know. Jeremy Northam's Mr. Knightley is supposed to be the best thing since sliced toast and he's supposed to rival Colin Firth's Darcy and all that. But sorry, you guys, I just can't like him very much. For one thing, I felt as though I didn't have a chance to get to know his character. I'm an avid fan of movies that are at LEAST three or four hours long (haha, Melody's gotten an earful on that subject, haven't ya Tween?) and I don't think two measly hours in a cinema are sufficient for the development of someone as amazing as my Mr. Knightley. (Yes, I said "my.")
Besides which, he didn't strike me as being the caring, older-brotherly sort--- I kept getting the impression that he was laughing in his sleeve at Mr. Woodhouse (well, can't really blame him there) and that he was more interested in making fun of Emma than in actually seeking to help her and improve her. The Badly Done scene, however,
was
Well Done indeed (
done well, Donwell... I need to stop making stupid puns--although in actual fact, that pun is from Letters from Pemberley and isn't my own making, but I'm getting off track now
) . I have to admit that. Still and all, I prefer Jonny Lee Miller's Mr. Knightley (even though I still think
he
didn't
quite
measure up in every single respect... yes, I'm picky about the portrayals of my favorite literary hero.) And do not mention Mark Strong's
butchery
portrayal to me at this time. Or at any time.
And while we're on the subject, sire, do not mention the horrific rendition of my beloved Chapter Forty-Nine. I was on the verge of TEARS, peoples. That proposal is just so beautiful and they BLEW IT. And like I said, I never got the sense that Mr. Knightley DID love Emma all that much. "I rode through the rain! I'd - I'd ride through worse than that if I could just hear your voice telling me that I might, at least, have some chance to win you," doesn't sound quite so convincing when the guy who's saying it is making approximately his fourth appearance in the entire film. (
Enough rants, Amy, move on.
) "Marry me. Marry me, my wonderful, darling friend." No. No, no, no. Where is "If I loved you less I might be able to talk about it more"????? I'm seeking it here, I'm seeking it there, and I can't find it anywhere... Okay, sorry. I did say I'd stop. I will. I WILL.
Toni Colette's portrayal of Harriet Smith... well, she grew on me. I didn't like her AT ALL at first, and though I'm still mad that the producers didn't pay any attention to Jane Austen's description of Harriet in the book (hello, the woman doesn't often describe people so minutely---sit up and take notice!) she was a genuinely likable character and I really felt for her by the end. In fact, I felt bad for her throughout a lot of the movie.
Drop that Miss Woodhouse and find yourself a real friend, girl. Believe me, all she wants to do is rearrange your life and she's not even very good at it!
Ahem.
Anyways, I found Harriet's klutziness rather endearing, and the scene in which she and Emma are puzzling over Mr. Elton's riddle was quite amusing indeed. Excessively diverting. I'll digress here for a moment to say that you mustn't get me wrong--this movie was indeed
excessively
diverting and I found myself laughing out loud (not just in my mind) in nearly every scene. "Try not to kill my dogs."
Now, back to Mr. Elton's riddle. Anne-girl and I first heard about this movie years and years and YEARS ago, long before we were acquainted with Jane Austen, from friends of ours who really loved it. I remember them quoting the riddle scene (twisted and paraphrased, of course) one day at lunch--"Chips--corn--CORN CHIPS!" Ahem. Moving on...
Alan Cumming's Mr. Elton was not as slimy and hilarious as Blake Ritson's, but I did find him amusing. "A party
is
a party!" Mrs. Elton, on the other hand... well, I must throw a party for her. Otherwise everyone will feel at once how much I dislike her. But then again, you
are
supposed to dislike Mrs. Elton. (Is it possible that Mr. Elton met her while doing charitable work in a mental infirmary?) Christina Cole was still better (this Mrs. Elton seemed a wee bit too old) but overall I enjoyed Juliet Stevenson's portrayal. Of course I do not pretend to be an expert on characters, but my friends say I am.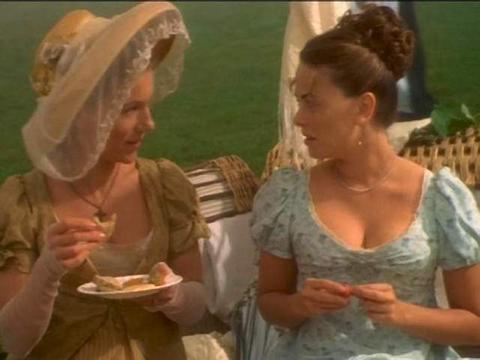 Now, as far as Ewan MacGregor's portrayal of Frank Churchill goes, well, I honestly couldn't take him seriously with that wig. Sink me, I could hardly bring myself to look upon it. Too bad this Frank never went to London to get his hair cut, because it struck me as being imperative business indeed. Overall he wasn't too bad, but not great either. Polly Walker's Jane Fairfax, though quite nice, wasn't as sweet and endearing as Laura Pyper's Jane. However, she did seem more sophisticated and elegant--but was that true to the novel? I can't remember. I need to read the book again.
But to be positive (sink me, if I'm not saying something nice. For a change) Sophie Thompson was utterly delightful as Miss Bates--in fact, she was lovely, lovely, lovely. "Angel, mother--PORK!" Other things I liked-- Greta Scacchi was good as Mrs. Weston, but there was nothing "wow" in her portrayal. Mr. Woodhouse was, unfortunately, forgettable. Michael Gambon just owns that role. Sorry.
I was most pleased by the fact that they included the famous "Brother and sister? No indeed!" quote, but the Mr.-Knightley-and-Emma dance scene didn't thrill me the way it did in the 2009 version. And the dancing didn't seem quite as authentic-for-the-time-period, either.
I think really the biggest fault with this film is that the creators tried too hard to make it appealing to modern audiences. The costumes are in many places inaccurate (although I'm no expert on Regency fashions, even I could tell that Emma's shoes are way too 20th-century) and the dialogue is rarely taken straight from the book. It's funny, yes, and enjoyable to watch, but it's not Jane Austen's Emma. It's Miramax's Emma. I've ranted about this topic before in my review of
Pride and Prejudice
2005.
The reason Jane Austen was such a brilliant writer--nay, a genius--was that she captured human nature. She wrote about people and how they related to one another. Times and fashions and language and societies change, but people do not. Any person, no matter what era they live in, can relate to Jane Austen's amazing characters. So when a filmmaker tries to "update" a classic story and change things around in order to please shallow moviegoers, that filmmaker has made a mistake.
You can
go here
to read the rest of that review if you like.
If you'd like to see a little taste of the movie, I've embedded the trailer below. Unfortunately, this video cuts off before it reaches the end, but it's fun nonetheless.
All in all, I enjoyed this movie and would recommend it--to those who are seeking an old-fashioned, clean, romantic comedy. If you want to see an accurate depiction of Jane Austen's novel, go with the
2009 Masterpiece adaptation
.
So... what were your thoughts on this movie?